Petit LadyTM treatment with Action II is a non-surgical,
non-invasive treatment for vaginal rejuvenation.
Petit Lady is a non-invasive treatment, meaning that no surgery or suturing is involved. This safe and comfortable treatment awakens your feminine sensuality by tightening up the vaginal canal. This tightening of vaginal tissues is enabled by the regeneration of collagen and rejuvenation of the vulva to give you a young and "new" vagina. Petit lady is indicated for a variety of gynecological conditions caused by post-delivery alterations and the natural aging process. Please talk to your doctor to find out more about Petit Lady.


Ask Your Physician
To tighten vagina and vestibule
To reduce vaginal atrophy
To enhance the appearance of pigmented vulva
To improve post-delivery vaginal alterations
To normalize discharge
To reduce burning sensation, itching, and so on
Petit Lady provides an ideal solution for the treatment of various vaginal indications in a convenient, noninvasive and non-surgical manner, while completely eliminating any risks of adverse events. Consequently, the treatment leads to improvements in sexual intimacy, self-esteem, and the quality of your daily life without any clinical concerns.


Applications
Tighten vagina and vestibule
Sexual gratification is significantly influenced by vaginal tightness because of the alleviated sexual stimulation or pleasure. Vaginal Rejuvenation makes the vestibule and vaginal canal narrower and increases the amount of friction produced during intercourse. These maximize sensation and enhance sexual satisfaction.
Treat vaginal atrophy
A set of aggravating symptoms related to vaginal atrophy generally become worse over a period of time. Symptoms are vaginal dryness, burning sensation, vaginal discharge, genital itching, burning with urination, and reduced vaginal lubrication during sexual activity. For those who suffer from vaginal atrophy, their decreased estrogen levels cause thinning, drying and inflammation of the vaginal wall. One myth about vaginal atrophy is that the condition happens most frequently after the menopause, but it can actually occur during breast-feeding or at any time when the estrogen levels drop. Particularly when you are still young, you really need to address the problem and get it solved, but this is true at any age. The answer is Petit Lady! The symptoms are minimized if you undergo Laser Vaginal Rejuvenation with Petit Lady. The function of the vagina is also improved by rejuvenating the vaginal tissues.
Improve the appearance of a pigmented vulva
Laser Vaginal Rejuvenation brings back the natural color and silky texture of the vulva area, meaning Petit Lady opens a door to a younger and healthy vagina.
Overcome post-delivery vaginal alterations
Pregnancy, labor and vaginal delivery are definitely the most critical culprits resulting in decreased sensation and deteriorated vaginal tissues. Labor and delivery negatively impact the tightness, tone, control, and strength of the vagina. After your vagina has undergone Laser Vaginal Rejuvenation with Petit Lady, the tightness and elasticity of a younger vagina are restored.
Avoid symptoms of stress urinary incontinence
Stress Urinary Incontinence (SUI) is defined as unintentional or uncontrollable leakage of urine due to the weakened tissues supporting the urethra. As childbirth and aging are known to be the causes of SUI, many women suffer from SUI. This embarrassing problem is characterized by the involuntary loss of urine during daily activities which increase abdominal pressure such as coughing, sneezing, exercising, and lifting. Tissues supporting the pelvic floor and the urethra are strengthened by Laser Vaginal Rejuvenation with Petit Lady.
Dual Mode (Dual pass technique)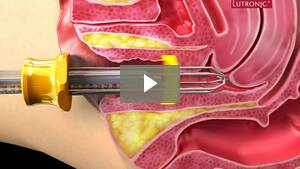 Unique Dual Mode enables a deeper secondary thermal effect, and it controls heating of the delicate target tissues of the vaginal wall. The unique patented design of the intravaginal scopes makes the procedure more convenient and time-efficient.